Renovation and restoration of an existing ground floor residence in Lampini, Rethymnon
On a plot of land within the boundaries of the settlement of Lampini, Rethymno, there is a ground-floor house of 56 sq.m., dilapidated, with half of the roof uncovered and the rest covered with a ready-made slab. We were called upon in this case to restore the building to its former state and add a mezzanine (loft) to meet the new needs of the owner.
Respecting the architectural influences of the area, we restore the stone masonry that has been damaged and cover the building with a four-pitched roof, within which the new attic is created. As for the facades, an earth tone coating is used and decorative stone coating in the corners. We retain the existing openings to the south and east, which are adorned with stone lintels.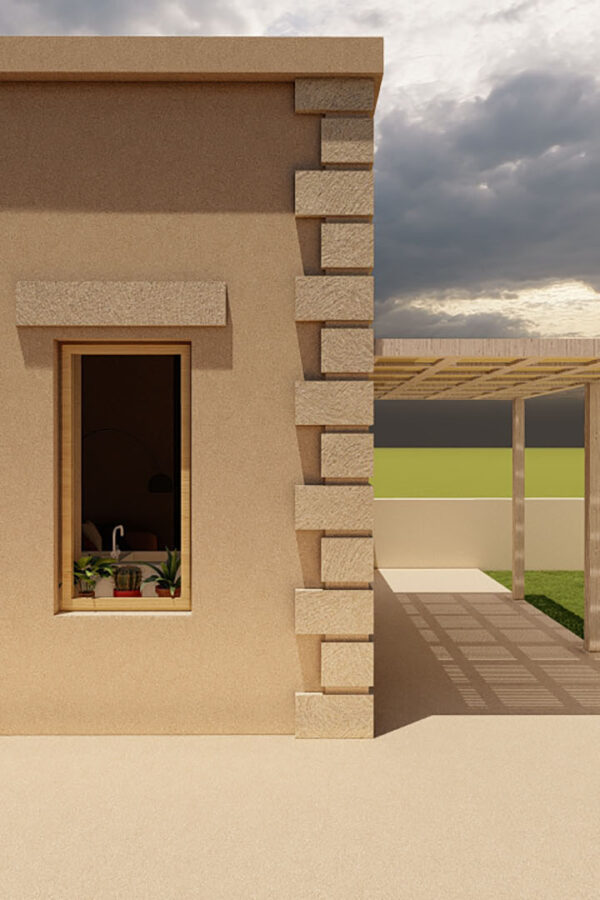 The entrance to the residence is made from the south side of the building and a wooden pergola is placed to the east, which provides shade to the outdoor recreation area. The above landscaped areas are demarcated with a concrete slab, while the rest of the plot is planted.
Internally, at ground floor level, a single space accommodates the living room and the kitchen, which are separated by a slightly tinted glass panel, the dining room and the office area. The bedroom as well as the bathroom. they are separate rooms on the same level. On the north side is the staircase that leads to the attic, which houses another bedroom with an internal w.c. and an interior balcony. To light and ventilate the attic, a skylight is placed on the roof, as well as an opening in the inner wall of the bedroom.
Next project