Construction of a new hotel unit 3 in Panormos Mylopotamos
On a plot of land located within the Panormos City Plan of the Municipality of Mylopotamos, Prefecture of Rethymno, we are invited to build a new 3* hotel unit.
More specifically, we are designing two buildings within the plot. Building I consists of a ground-floor area, which houses the reception and the restaurant, while the auxiliary areas of the hotel unit are housed in the basement. The two levels are connected by an elevator and a staircase, while a second staircase is planned in the northwest part of the basement, in order to serve the needs of the restaurant. The roof of the said building is planted and access to it is via the elevator stairwell.
Building II is partly two-storey with gable and partly two-storey with attic and single-gable roof. On the ground floor, our design foresees 9 rooms (10 beds in total) with a separate entrance each. Each room includes a bedroom, bathroom and private pool. On the floor there are 9 rooms (9 beds), of which 5 have an attic with a bedroom (5 beds). Access to the floor is via an external staircase in the northern part of the building and an internal staircase in the southern part. Each room has a separate entrance, which is either through an open corridor or through a covered one. Access to the attic is via an internal staircase within the rooms. Each room on the floor includes a bedroom, bathroom, pergola and jacuzzi on the balcony.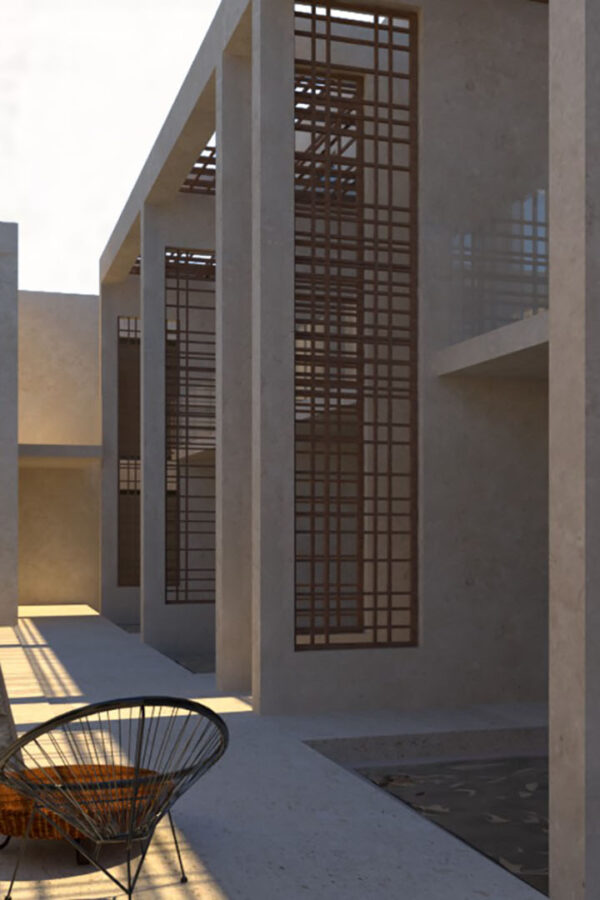 Finally, we are creating semi-outdoor spaces both in building I to signal the entrance to the complex and to build an outdoor living area, and in building II in front of each room to shade the pool and ensure the privacy of the guests' stay.
Due to the imperceptible slope of the natural ground, the building is formed on a level and at a small altitude difference from the natural ground.
The entrance to the hotel is planned to be from the north side of the plot at a point where the height of the road allows the entrance of the disabled by creating an entrance corridor without a slope. We create 4 parking spaces on the plot. The configurations of the surrounding space have been designed in such a way as to satisfy the requirements of the construction, i.e. the parking spaces, the height of the building, the passage of the tenants and the harmonization of the building in an elegant environment.
Prev project
Next project