Construction of a two-story house with an attic
On the plot of 180 sq.m. within the city plan of Rethymnon, in the "Mastabas – Kallithea" area, a new two-storey house with a total area of ​​145 sq.m. is to be built. with portico, attic 40 sq.m. and with a swimming pool in the surrounding area. The residence fits smoothly into the architecture of the area and does not affect the built and unstructured environment. At the same time, functionally it is fully modernized with the constructions of the area.
For easy navigation in the building's spaces, from now on we will name its levels as A, B, C and D.
On the A level of the residence, the building's pilaster is placed. The pier is open in all its parts, except for those that come into contact with neighboring property and at the points where the columns of the building's supporting body are developed.
The central entrance from the street level is located on the B level. Access is via a bridge, as at the underlying level this point is free due to the slope of the plot and is planted. From the same level, the entrance of the car to the pier, where the parking spaces are located, is made.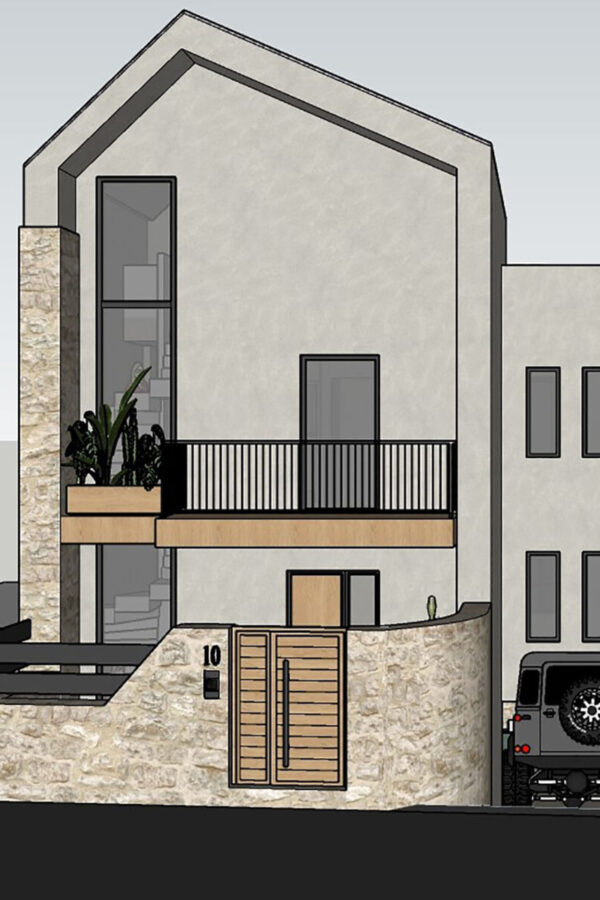 Upon entering, the visitor encounters the staircase to the west and a small shared w.c. and to the north a single living room – kitchen area. The staircase vertically joins all levels of the house (pillar-attic).
On the C level of the residence are the two bedrooms to the north and a bathroom to the southeast.
The D level is that of the attic, which is housed with a pitched roof and houses another bedroom with w.c.. Through the attic access is made to the roof of the residence, which is partially planted with low vegetation. The openings are placed on the north and south sides of the building, as the other two are partition walls. Thus, the best possible lighting and ventilation is achieved.
A small swimming pool of 10 sq.m. is placed in the surrounding area south of the residence. and another green space.
Prev project
Next project