New two-storey house with a swimming pool in Asomatos Rethymnon
On a plot of 2407 sq.m. in the area of ​​Asomatos, Prefecture of Rethymno, we are asked to design a new two-storey house with a swimming pool in its surrounding area. The house is designed in the northern part of the plot and has a "C" shape, framing the view. The volumes that make up the building are placed to the north and east, in order to offer protection from the winds to the surrounding area that is being designed. With this building configuration, a clear separation is made between the day and night zones.
The construction is made of reinforced concrete, which is coated with an earth tone plaster, while decorative stones and wooden coverings are used in places.
The residence has a total area of ​​330 sq.m. and is developed on two levels. Upon entering, the visitor, from the north, encounters the living areas (living room, dining room, kitchen) and to the northeast the staircase leading to the first floor. To the east, a rest zone is created, where 3 bedrooms with a bathroom are placed. The floor is developed in the northern part of the building, where 3 more bedrooms with a bathroom are placed. The roof of the ground floor is used as a terrace which is also accessible via an open staircase, south of the building. On top of that, two vertical openings are designed to illuminate the underlying bedrooms.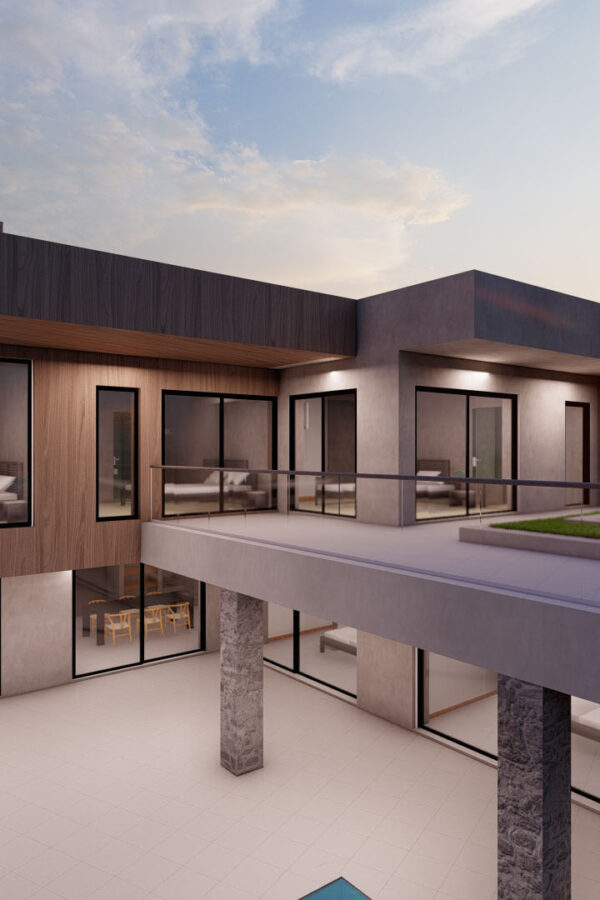 In the surrounding area, a 1.45 m deep and 90 m2 swimming pool is planned, as well as a shallower one for children of 20.50 m2. A wooden platform is used to bridge the opening of the pool, which leads to a space resting in the center of the swimming pool.
Prev project
Next project