Construction of a new ground floor residence with a basement and an underground building
On a plot of land in the area of ​​Giannoudi, Rethymno, we were asked to design three houses, one of which is intended for a family with a disabled person.
Taking advantage of the strong slope of the ground and the needs of the clients we designed two different volumes, a single storey with a basement and a basement. The residences are placed in the center of the plot with a northeast orientation, where the view is also located. Through an ascending road, the visitor is led to the parking areas and by extension to the entrances of the residences.
The two smaller residences coexist in the cavernous volume, 70 sq.m. each, which are identical and symmetrical. They have a terrace facing the view and a smaller vertical passage on the back side of the building for ventilation and lighting.
The one-story volume accommodates the 100 sq.m. residence. for the family with a disabled person.
The entrance to it is through the basement (80 sq.m.) and with the help of an elevator the ascent to its main areas. Around the perimeter of the residence are developed its relaxation areas, which are oriented towards the view. Internally, the spaces have been studied and designed appropriately to offer a comfortable stay to the user.
The materials used for the construction of the houses are simple and compatible with the character of the area. The main material used to form the facades is the coating in an earth tone, aluminum doors and windows, glass and wood.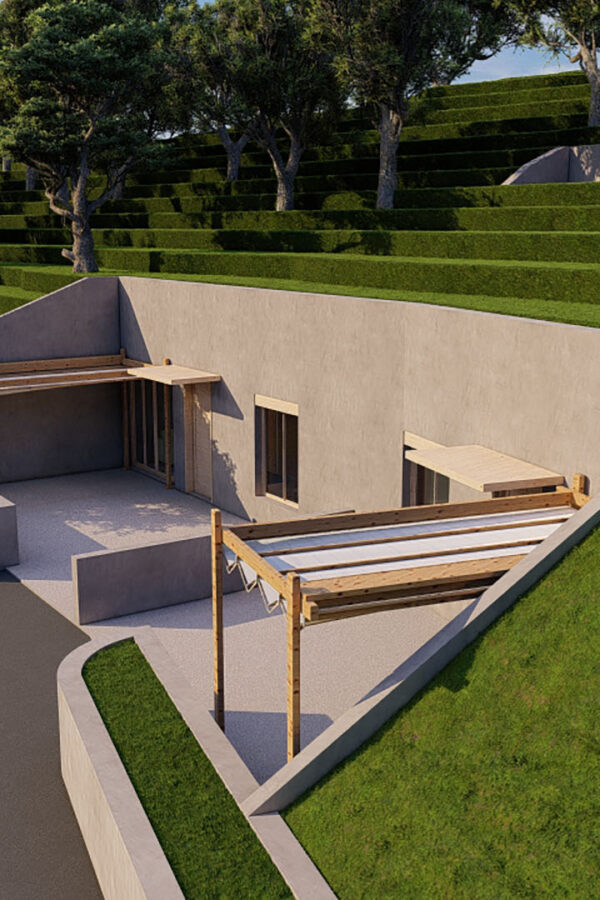 Prev project
Next project