Construction of a new two-storey house with a basement in Panorama Rethymnon
On a plot of land within the Panorama settlement, Rethymno, we are planning a two-storey house with a basement. The residence is placed on the northern side of the plot, so that another building can be planned to the south in the future. Volumetrically, the building is organized so that form follows function and consists of two sliding volumes. One of them is covered by a single-pitched roof, the extension of which delimits the central porch.
The entrance to the plot is via a municipal road on its eastern side, where the parking space is also located. Then, through a semi-outdoor space, the entrance to the residence is made. On the ground floor we place the living areas (living room, kitchen, dining room) and an auxiliary w.c., while on the first floor there are three bedrooms and the bathroom, for further privacy.
The living room is airy and opens onto a terrace on the east (street) and a courtyard on its west side. In order to interrupt the visual contact between the street and the terrace, we place an olive tree as a filter.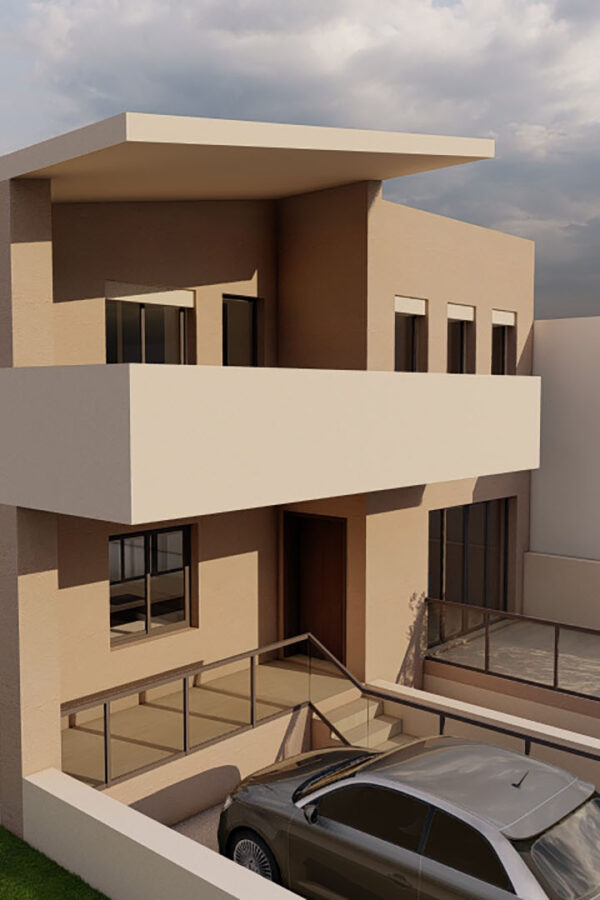 The yard has an introverted character, away from the street and the hustle and bustle, offering a private spot for the family. The swimming pool is also planned in the same place.
In the basement beyond some auxiliary spaces, we are planning a play area, as well as an independent studio of 25 m2. The entrance to it is via a staircase, from the street side.
Prev project
Next project