Construction of a new two-storey house with attic and basement in Rethymnon
On a plot of land within the city plan of Rethymno, we are invited to design a two-storey building with 3 apartments with a parking space for each one.
The entrance to the building is made from the eastern side of the plot, where the parking spaces are also located. On the ground floor, on either side of the landscaped entrance hall, there are two residences, 65 and 50 sq.m. each one.
The first residence is located on the north side of the plot and consists of 2 bedrooms, a bathroom and the living areas (living room, kitchen, dining room), with an eastern orientation, towards the street.
The second residence is located on the south side of the plot and consists of 1 bedroom, bathroom and living areas with the same orientation as the previous case.
At the end of the shaped entrance corridor, a staircase is developed, through which the visitor gains access to the third residence located on the floor and covering its entire area.
In the northern part we place the bedrooms (3) and the bathroom, while in the southern part the w.c. and the living room.
On the south side of the building, we create an attic that houses the kitchen and is accessible through the living room. The attic in question does not extend the full length of the underlying floor, resulting in an internal balcony to the living room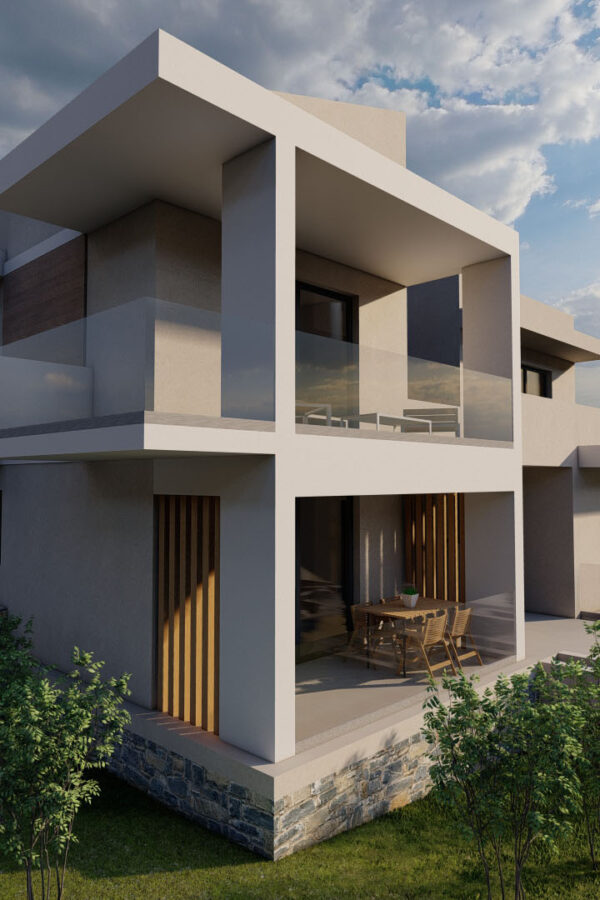 Prev project
Next project